The availability of natural lumber is limited, especially for species like redwood, cedar, and teak that are naturally resistant to decay and pests. As a result, composite decking in Melbourne is becoming a more and more popular option for decks and other outdoor constructions. 
So-called composite decking is available in various shapes and sizes, including closely packed molecules of PVC plastic boards, closely packed molecule composites made entirely of recycled plastic, and goods that combine plastic and natural wood or bamboo fibers.
A variety of composite decking materials are available
In addition to lumber, there are a variety of composite decking materials available for composite decking suppliers in Melbourne:
● Aluminum
● Composite cement
● Compressed fibre
● PVCs
● Timber
These materials have many merits over timber, including low maintenance requirements, high levels of resistance, and adaptability in terms of aesthetics. When we think about decking, wood generally comes to mind first. Although it is the most common option, this one also has demerits. This is one of the trickiest decisions, even if you choose the best wood for the deck. It must often be often sanded and stained to prevent deterioration. These materials have several advantages over timber, including low maintenance requirements, high levels of resistance, and adaptability in terms of aesthetics.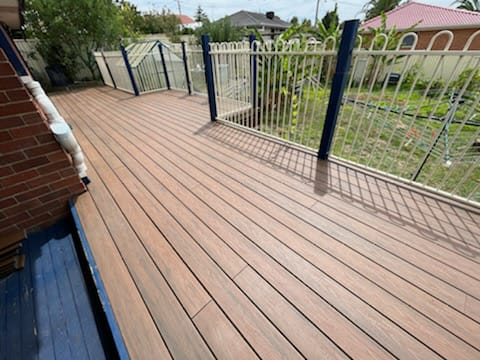 Timber Decking
In both the past and present, wood has been one of the most widely used materials for decks. When contemplating options for outdoor decking material, natural wood or eco-decking in Melbourne is often the first choice for many homeowners because of how it looks and feels. There are several options to consider under the broad wood decking category.
Despite being the most resilient, hardwood decking suppliers in Melbourne are generally more expensive than other options. The lifespan of hardwoods exceeds that of all different types of timber, and some hardwoods are naturally termite-resistant. Hardwoods, including redwood, cedar, and jar-rah, are also common. See this article on jar-rah-decking and spot gum decking for more details.
Softwoods are a less expensive option for wooden decking due to their light tone.
Compressed Wood
One of the most economical options for decking material overall is pressure-treated wood. Southern yellow pine is put through a chemical procedure by manufacturers to harden and increase its resistance to pests and dampness.
Although this wood is cheap, it does need regular maintenance, such as pressure washing and layers of stain and sealer, to keep it looking its best. Additionally, pressure-treated wood decks will need to be sanded to prevent splinters. Even so, these boards will shrink, bend, and shatter with time and exposure to bad weather.
Compressed Cement
Another recent advancement in decking that requires less care is compressed fibre cement. Despite costing more than wood and composite decking, it is still less expensive than wood and composite. However, it is more durable and impervious to weather, insects, and fire. This is especially helpful in Australia's warmer and more humid regions. Compressed fibre cement can easily be painted or stained to change its appearance.
PVC Decking
PVC decking has a lot of merits. The appearance of PVC is easily changeable. PVC can be of whatever color or have a wood-like appearance. It does not rot or be eaten by bugs, making it incredibly durable and quick and straightforward to assemble. Prolonged exposure to the sun is one issue with PVC, which may result in the fading and eventual brittleness of PVC hues. It might have to be replaced as PVC is hard to fix. It comes in White Composite Decking and Grey Composite Decking.
PVC decking is a contemporary decking material that helps you make a durable and practically cost-free deck after installation. These boards feature chemicals that make them rot- and insect-resistant and simulate the appearance of natural wood. These boards have a lower environmental impact than wood boards since they can be recycled after use.
Aluminum Decking
Due to the metal's tendency to heat up and its unsuitability for decking in Australia's hot summers, there may be better options than aluminum decking. With the appropriate coating, metal surfaces can be made non-slip. Since aluminum is so strong and won't break, split, or decay, many businesses provide lifetime warranties on their goods, which translates to low keep-up. Another benefit of aluminum is that it won't burn, which is fantastic for buildings in bushfire-prone locations. A significant demerit of aluminum decking is that it makes more noise when wet or underfoot than other materials.
Conclusion
Every decking material has benefits and drawbacks. Some people are more concerned than others with the decking material's look. For many, wood is difficult to beat. Timber can be more expensive than other materials and is susceptible to various problems, including termites, fires, and decay. One of the most challenging materials to maintain is this one. Common decking alternatives can address most of these problems, but only one solution can manage some of them.